Last Tuesday, my mom and I boarded a plane and flew to Denver, Colorado.
We packed light for our overnight trip, limiting those liquids and gels to 3-ounce containers and making sure our baggage was security-ready. We flew in an Embraer ERJ 145 on both flights. I normally don't pay attention to such things, but Mr. Awesome let me know that the plane had an excellent safety record, so that was good :)
Upon landing in Denver, we maneuvered our way through the enormous airport (seriously - the airport makes KCI look like a bus stop) towards the Ground Transportation area, where a fancy black Lincoln was waiting for us. The driver was really nice - told us about how he used to live in Vail until he had kids and needed to move somewhere more "real" - and we were at our hotel in about 30 minutes.
Paulette from Be The Match had booked us at the
Holiday Inn Select in Cherry Creek
, just south of downtown Denver. The hotel was rather new, and had a comfortable and contemporary lobby. However, check-in was a bit... weird.
Does anyone remember the character Beverly Leslie from the show Boston Legal?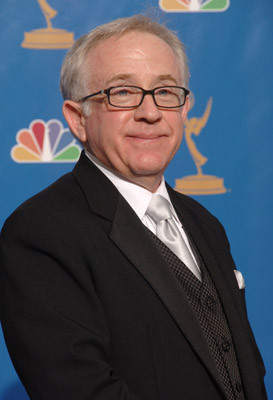 The front-desk clerk looked and sounded just like that character. I liked that character. All was well.
Until he asked me why we were in town and I told him I was a bone marrow donor here for a physical.
Front-desk Leslie, in a thick Southern drawl rather out-of-place for the high plains, proceeded to tell me that he wanted to be a bone marrow donor, but he has hepatitis and can't donate and that "really bothers" him. Actually, he goes on to say, he has two types of hepatitis and they won't let him donate blood, and he really wants to, and it "really bothers" him.
You know what "really bothers" me? Being told, loudly, at check-in, about your communicable diseases and made to feel a little guilty that I, by virtue of higher standards of discretion in the realms of sexual partners and/or shellfish, can still donate life-saving materials from my hepatitis-free self.
Strike one against the Holiday Inn Select in Cherry Creek.
The room was standard, but comfortable. The beds were more comfortable than I expected. After unpacking our few items and resting for a few minutes, my mom and I headed out for lunch. The hotel was a 1-mile walk down a very nice trail to one of the fanciest shopping malls ever. Sur La Table? Check. Apple Store? Check. Louis Vuitton? Check. Swanky.
We had a good lunch at Brio Tuscan Grill - I'd never eaten there before and love Italian food - where we had bruschetta and eggplant Parmesan and strawberry-basil lemonade. Delicious! For dessert, we shared a bag of cinnamon popcorn from a place in the mall. Also delicious! Then we headed back to the hotel for a nap.
When I was a kid, my mom and I would spend a week each summer at a Unity Church retreat at the YMCA of the Rockies. She would drive us from KC in the middle of the night to avoid heat and traffic, and we'd get to Denver sometime around sunrise on a Saturday. The retreat didn't start until Sunday, so we would check into the
Brown Palace Hotel
for one night before the retreat and for one night on the way home. We'd stay in a suite up on the 9th floor and order room service breakfast (Irish oatmeal) and wear fluffy robes and pretty much live like queens. For dinner, we'd eat in the Ship's Tavern, the bar and grill just off the hotel lobby. The last time I was in the Brown Palace was when I was maybe 14, so we decided we'd go back for dinner to see if anything has changed.
Thankfully, just about everything was exactly the same. Same big, beautiful lobby, same friendly and helpful doormen, same feel, same charm. We planned on eating at the Ship's Tavern, but that's one thing that was a bit different - it was full of businessmen watching sporting events. Not exactly the vibe we were going for, but luckily they serve drinks and appetizers in the lobby, where we were serenaded by an excellent pianist:
He even took a picture of my mom and me together:
Dinner was excellent. My mom had a martini that was made with honey from bees that have hives on the roof of the hotel! We shared crab cakes and a cheese plate, then made our way back to the hotel to call it a night.
I didn't really think much about the physical on this day. I just enjoyed being in Denver with my mom, with the mountains in the distance. The one thing I did do was drink lots of water throughout the day, since that's what saved me when I had to give blood the last time.
I slept really, really well, except for having to pee every 3 hours. Chalk that up to all the water-drinking. But my veins were hydrated!