Since we don't have cable, we watch a lot of movies and older or less-mainstream television series. Over the last few months, we've watched several of each, and I've meant to write about them here but then life happens and I forget.
Now I'm playing catch-up.
As far as television series go, our favorites in recent months have been
The Mighty Boosh
and
Red Dwarf
. If you like absurd, strange, sort-of-off comedy that has a hint (or, in the case of Red Dwarf, more than a hint) of science fiction, you'll like these shows.
Telling you all about my Mighty Boosh love allows me to post this: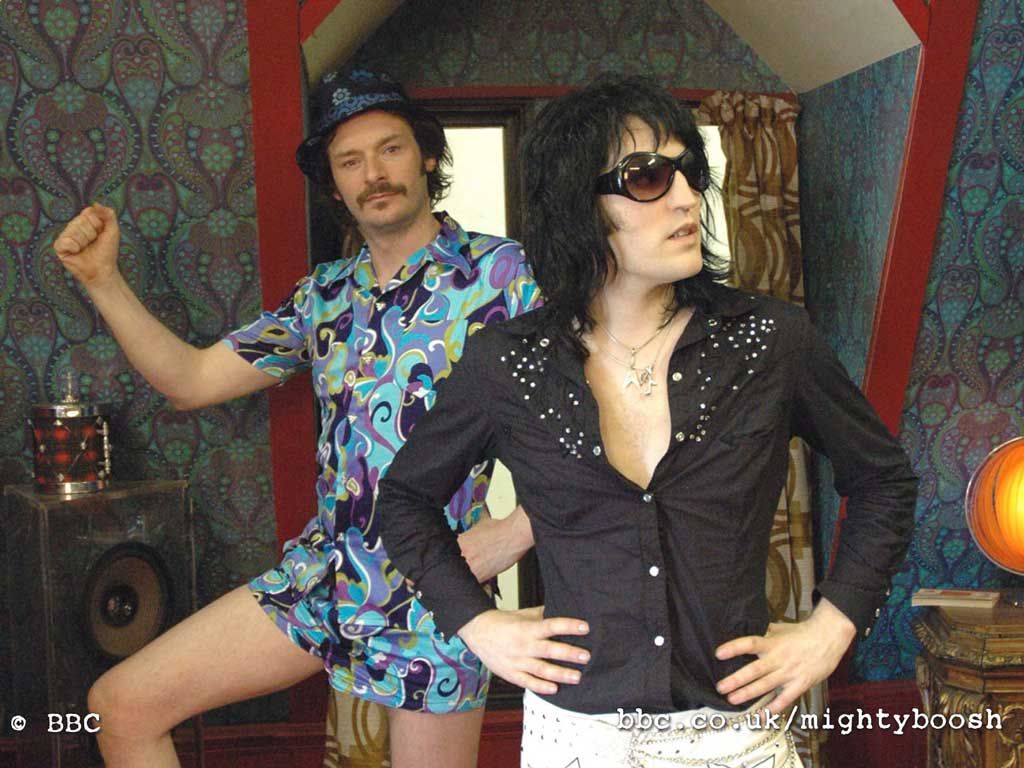 Jazz, baby.
I recently watched the BBC miniseries
Sherlock
. It's a contemporary remake of the classic stories, incorporating modern science and gadgets and slick (but not overbearingly so) special effects. There are three movies in the miniseries, and all three are terrific. Telling you about my Sherlock love allows me to post this:
Other noteworthy shows:
Louie
- the most underrated comedy on television. Every episode is brilliance personified.
The Whitest Kids U Know
- the last season isn't all that great, but the first four are crazy-hilarious.
As for movies, I've tried to keep track of most of them, but undoubtedly neglected several. Here's a summary of those we've watched recently that I managed to remember:
Trust
- Clive Owen and Catherine Keener deal with the effects of a relationship between their teenage daughter and a guy she meets on the scary, scary Internet. Realistic, and recommended watching for any kid who likes to chat online with people they  don't know. 3 out of 5.
Terri
- John C. Reilly as a high school principal who tries to make a difference in the lives of "good hearted" kids, especially fat and socially-awkward Terri. The scenes between Reilly and the kid playing Terri are good, but overall this film feels like something is missing. 2 out of 5.
Meek's Cutoff
- A western with Michelle Williams and Paul Dano sounded so promising. Too bad the film literally goes nowhere. It ended so abruptly I rewound 10 minutes just to make sure I didn't miss anything. Nope. 1 out of 5, just because I didn't turn it off before it ended.
Submarine
- cute indie comedy directed by Richard Ayoade. Had a Wes Anderson feel to it. Kid falls in love, and tries to figure out what's up with his parents' relationship. 3.5 out of 5.
Tucker and Dale vs. Evil
- Rednecks torment college kids in the woods. Or do they? Well-made and really funny. 3.5 out of 5.
Harry Potter and the Chamber of Secrets
- A little too much snake action for Frank, but still terrific. 4 out of 5.
Harry Potter and the Sorcerer's Stone
- Beautiful, exciting, entertaining, just like the book. 4.5 out of 5.
Bridesmaids
- Kristen Wiig/Judd Apatow comedy. Funny, but not as great as other Apatow films. It might grow on me. I liked it more than Frank did. 3.5 out of 5.
POM Wonderful Presents: The Greatest Movie Ever Sold - 
Morgan Spurlock documentary about product placement/brand integration in films. Started slow, but got better. 3 out of 5.
It's Kind of a Funny Story
  - Depressed kid and the hospital ward. Very sweet, moving and entertaining. 4 out of 5.
Paul
 - Alien and Brits together on a road trip of sorts. Laugh-out loud funny, other times really sweet. I love just about anything with Jason Bateman, anyway. 4 out of 5.
Super
- Rainn Wilson is a wannabe superhero. Gritty, funny, sweet and ultimately very touching. Ellen Page co-stars - love her. 3.5 out of 5.
Limitless
- Bradley Cooper takes superpills, and Robert De Niro tries to bring him down. Fast-paced, great special effects, entertaining all the way through. 3 out of 5.
Your Highness
- Someone said, "let's make a raunchy medieval comedy!" and this was the result. I was entertained. There are lots of laugh-out-loud moments, and James Franco is great, but the film is ultimately forgettable. 2 out of 5.
Source Code
- Jake Gyllenhal lives a moment over and over. Good premise, good special effects, good, entertaining action movie. 3.5 out of 5.
The Adjustment Bureau
- A romance disguised as an action movie. Excellent emotional connection with the characters. 4 out of 5.
Rubber
- An absurdist story about a homicidal tire. You read that right. I really liked this movie, even though I can't really explain it. 4 out of 5.